ANDREW NANCE - FOUR GENERATIONS
The Nance family originated in Cornwall where the first Andrew Nance (1751-1800) had been apprenticed as a felt maker in Padstow. By 1772 he had married Martha who was possibly French and their first son William was born about 1773. Seven more children were born to Andrew and Martha and they were all baptised at Sandwich, Kent. Their fourth child was also known as Andrew (1778-1853) and he became a hatter in High Street, Portsmouth. When he was twenty years old he married Ann Norris (1775-1850), the daughter of William Norris, brewer and wine merchant of High Street, Portsmouth.

Andrew (2) and Ann had 12 children - Martha, born 1798, who married Thomas Calton; Suseanne, 1801-1805; Ann, 1803-1805; Susanna, b1808, who married Thomas Dreweatt; Andrew (3) b1810, who married Martha Blunden; Marianne, b1805, Charlotte; William, b1813; James, b1816; Elizabeth, b1818, who married John Blunden; Eleanor, known as Ellen, b1820, who married James Conway Langdon; and Richard, b1822.

By the turn of the 19C the family were firmly established in Portsmouth where Andrew (2) was the owner of the Fountain Hotel in High Street. He also owned two other inns, The Crown Inn in High Street, near to Pembroke Road, and the Blue Posts in Broad Street. The latter was well known as the departure point for the London stage coach.

Nance's business interests extended well beyond the management of the inns. In 1828, together with banker George Grant and wine-merchant Edward Casher, Nance took over the bankrupt Portsea Island Waterworks and entered into negotiation to merge it with the Farlington Waterworks Company. When this failed they decided to run the company themselves from the headquarters in White Swan field, opposite the White Swan Inn, now in Guildhall Walk. In 1840 a merger was eventually agreed when Casher and Nance each received £5,125 in cash, plus one sixth of the new company's shares.

In 1833 Andrew Nance was elected a Burgess to the Borough of Portsmouth. When the Municipal Corporations Act came into force in 1835 he was again elected, but this time as a Councillor for the St. Thomas Ward, a post he held until October 13th 1851 when he took up the post of Alderman in place of the recently deceased Alderman George Caught.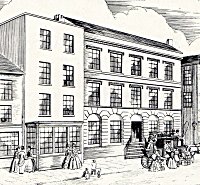 Andrew Nance (2) died 15 January, 1853. His will provided an annual income — the interest from a specified 'legacy' — for his daughters Martha, Susanna, Elizabeth and Ellen, and for the widow of his son James who pre-deceased him and for the two daughters of his daughter Marianne who also pre-deceased him. Elizabeth and Ellen's 'legacies' were both of £3,000. Several properties in Rands Court, Gosport, County Southampton, also a dwelling house in Bathing Lane, otherwise West Street, Portsmouth were left to his son William. Two dwelling houses, shops, etc. on the south side of High Street in Portsmouth were left to Martha.

As well as the annual income, Elizabeth and Ellen were left, in equal shares, the rents and profits of "Freehold and leasehold messuages and dwelling house, stores, wharf buildings and premises situate at the point of Portsmouth aforesaid and adjoining the Harbour formerly known as Whitings and now in lease to and in occupation of George Baker...free from the control and debts of their present and future husbands...and Elizabeth and Ellen shall respectively have no power to anticipate the same..." — they could not sell the property, it was in trust and on their deaths it should go to their children and their heirs "for ever."

No specific mention is made of any of the hotels formerly owned by Andrew (2) but it is known that by the time he died The Fountain was in the hands of Thomas Dreweatt, the husband of his daughter Susanna. Perhaps he had already signed it over.

Andrew (3) had been born at the Fountain Hotel on 4th April 1810. At a young age he was renowned for his prowess as a four-in-hand driver of the stage coach, breaking the record for the journey to London by 6 minutes. In 1839 young Andrew followed his father into politics when he was elected as a Councillor of the Borough for the All Saints Ward. His profession at this time was described as "Yeoman" but he had by then already set out on a successful business career which eventually took him into many aspects of life in Portsmouth.

His first tenure as Councillor lasted only one term as the electorate did not appreciate his over enthusiastic support for introducing a railway service to the town, but by 1846 he had returned to the Council, this time representing the St. Mary Ward. He was re-elected in 1849 and in 185 was elevated to the role of Alderman, only 3 years after his father. In November 1854 however he surpassed his father by becoming Mayor of the Borough at the unusually early age of 44 years.

He worked tirelessly, giving his time freely for the welfare of the Borough. He became Chairman of the Outwards' Commissioners, a member of the Board of Guardians and of the Board of Highways. Not content with these civic roles his private interests also multiplied - he became Chairman of the Portsmouth and Gosport Floating Bridge Company, Chairman of the Portsea Island Gaslight Company, a Director of the Southsea Clarence Esplanade Pier Company, the Landport and Southsea Tramway Company, on the committee for the building of the Portsmouth-London Railway and even the Chairman of the short-lived Southsea and Isle of Wight Steam Ferry Company which soon amalgamated with the Portsmouth and Ryde United Steam Packet Company.

He was interested in agriculture and the Census returns for 1851, 1861 and 1871 show him living at Baffins Farm and having almost 1,000 acres of land and employing 24 men and boys on several farms at Stamshaw and Copnor. He was an active Freemason, being one of the Founders of the Portsmouth Lodge. He was a strong Liberal supporter being Chairman of the local Liberal Party.

Sometime in 1846/7 Andrew (3) married Martha, who came from Poling in Sussex. They had a typically large Victorian family, consisting of five sons and seven daughters. He died on Christmas Eve, 1877, aged 67, at his home "Oatland" in Kingston Crescent, having kept to his bed for ten months with a painful malignant disease, although being treated by four doctors, two of whom had come from London (Sir James Paget and Dr. Habershon). Finally all pain left him and he died peacefully at half-past four in the afternoon in the presence of several members of his family. He was buried in Milton Churchyard (St James's) at a simple service attended by a large number of civic dignitaries, public men and friends "who held him in high esteem."

His widow, Martha, survived him until 7th October, 1910 when she died at the age of 84 years in St. Edward's Road, Southsea. Their son, also named Andrew (4), at one time helped his father on the farm but by 1873 he had established himself as a timber merchant and become elected as a Town Councillor. He resigned from the Council in August 1878 and later moved to Belfast where he took up the post of Tramway Manager which he occupied from 1881 to 1916. He must have had an early interest in the trams in Portsmouth as he is credited with drawing up the first plans for the tramway between the town station and Clarence Pier which ran from May 1865. He probably never married as the next Andrew in the family was his brother Walter's son who died in 1942.

Cynthia Sherwood and Tim Backhouse

REFERENCES
"Extracts from the Portsmouth Records" by Robert East
"Records of the Corporation" compiled by William Gates
"Portsmouth's Water Supply 1800-1860" by Mary Hallett (Portsmouth Papers No. 12)
Hampshire Telegraph
National Census, 1851/61/71
Portsmouth City Record Office (CHU47/1C/2)
"The Tramways of Portsmouth" by S.E. Harrison
A.R. Nance
The Blundens website