Lives Lived and Lives Lost - Portsmouth and the Great War
WILLIAM THOMAS WILLS

Around 1850, the grandfather of William Thomas Wills, also known as William, moved from Plymouth in Devon to Portsmouth where he found work as a tailor and married Elizabeth. They had two children, Jane (b. 1856) and Thomas (b. 1859) and in 1881 were living at 57 Clarendon Street. The latter became a hairdresser and by 1891 had taken the name of William, married Harriett and had a son named William Thomas Wills (b. 1885). The family were then living at 32, Russell Street.

In 1897 William Thomas began attending the Higher Grade School located at the top of Victoria Road North, Southsea on the site later occupied by Priory School. His presence at the school lasted only two years as in 1899 he succeeded by Civil Service Examination in securing an Apprenticeship as a ship fitter in H.M. Dockyard, Portsmouth. Some years later he left Admiralty employment and accepted an appointment under the Local Education Committee as a Manual Training Instructor in metalwork at their Drayton Road Centre. To ensure proficiency in his new undertaking he secured a number of certificates, some in mechanical subjects of various kinds from the "City and Guilds," and others in the theory and practice of teaching.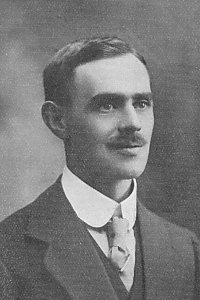 At around the same time he met and married Alice Maud and together they set up home at 10, Preston Road, North End. In 1911 Alice gave birth to a son who they named William Russell.

In October, 1914, William Thomas enrolled in the newly-formed Portsmouth Volunteer Training Corps, but thirteen months later severed his connection with it to enlist voluntarily in the Royal Army Service Corps. From Avonmouth he crossed to France in May, 1916, and for upwards of a year served on the Western Front with the rank of Sergeant in the Caterpillar Section of the Motor Transport. On the 3rd August, 1917, he was so severely wounded that he died the following day. His comrades buried him in the Brandhoek Cemetery, near the Ypres Road.

From the expressions of appreciation which his widow received, the words of his Company Officer may be selected as representative. They are :-"He was a good and capable Sergeant, always willing, and held in great respect by the whole Company. He has been buried in a Military Cemetery and we are having a plate inscribed to put on his cross in token of our respect."

Further Information

The photograph above is taken from a memorial booklet published by Southern Grammar School from which extracts also appear above.

The Commonwealth War Graves Commission (CWGC) website lists WT Wills (M2/150327), Serjeant, Army Service Corps, date of death, 04/08/1917, age 33, buried in Brandhoek New Military Cemetery.

William Wills's name is remembered on the Southern Grammar School WW1 Memorial and on the Cenotaph.