Lives Lived and Lives Lost - Portsmouth and the Great War
LEONARD CHARLES MAJOR

With his father Eli serving in the Royal Navy for nearly forty years it was probably always expected that Leonard Charles would also join the senior service which he duly did as soon as he left school.

Eli was born in Netherbury in Dorset in 1852 and left home for the sea as soon as he was eligible. In 1871 he was recorded by the census aboard HMS Duke of Wellington in Portsmouth Harbour and ten years later at sea or in some foreign port. He must have retained a strong connection to his home though as in 1884 he married Jane Way, who was also from Netherbury, in Beaminster a few miles away.

By 1891 the couple had moved to Portsmouth and were living at 165 Clive Road, Fratton with their first three children, Percy (b. 1888), Leonard Charles (b. 1889) and Alfred (b. 1890). Ten years later they were recorded by the census at 31 Liverpool Road, close to their previous address in Fratton, with three more children, Daisy (b. 1891), Ernest (b. 1894) and Lilian (b. 1896). They had also lost three children who died in infancy.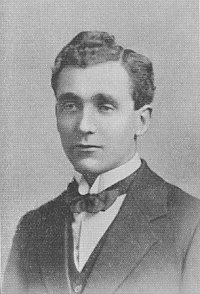 In 1902 Leonard Charles briefly attended the Secondary School on Victoria Road North before passing the Examination of the Civil Service Commission and becoming a Ship and Electrical Fitter's Apprentice in H.M. Dockyard, Portsmouth. Eli retired from the navy a few years later and the family moved again, this time to 62 Pretoria Road in Southsea.

At the outbreak of the Great War Leonard Charles was serving as an Electrician on board H.M.S. Queen Mary which was involved in the Battle of Heligoland and later took part in the Battle of Jutland on 31st May, 1916. Between four and five o'clock that day the Queen Mary, which was known throughout the Fleet for its excellent gunnery, was hit and blew up killing all 1200 members of her crew.

Further Information

The photograph above is taken from a memorial booklet published by Southern Grammar School from which extracts also appear above.

The Commonwealth War Graves Commission (CWGC) website lists Artificer Electrical 3rd Class Leonard Charles Major, (M/1732), Royal Navy, HMS Queen Mary, date of death, 31/05/1916. Lost at sea. Remembered on the Portsmouth Naval Memorial (Panel 20).

Leonard Major is also remembered on the Southern Grammar School WW1 Memorial and on the Cenotaph. He is not listed in the 'National Roll of the Great War'.