Lives Lived and Lives Lost - Portsmouth and the Great War
ARTHUR HENRY COLES

Although he wasn't born in Portsmouth Arthur Henry spent most of his life in the Borough following his father's move from Bristol to take up a job in the Dockyard as a shipwright.

His father was Henry Alfred Coles who was born to William and Elizabeth Coles at Woolwich in 1867. The family remained at Woolwich until the mid 1870s when they moved to Bedminster, Bristol which was where Elizabeth had been born. In the 1891 census both Henry and William were listed as being ship's carpenters. Henry married Elizabeth Jane Thomas early in 1894 at Bristol where the couple then settled. Whilst there, Elizabeth gave birth to their first three children, Elsie, Arthur Henry and Florence in 1894, 1895 and 1897 respectively.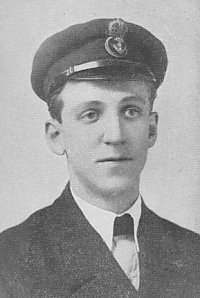 It was towards the end of the century that Henry Alfred brought his family to Portsmouth, where in 1901 they were recorded as living at 6 Manners Road, Southsea. Three more children followed over the next few years, Kate, Amy and Wilfred were born in 1901, 1905 and 1910.

In the meantime Arthur Henry had begun attending the Secondary School on Victoria Road North in 1907. He was to remain there until 1910. At the end of his third year he secured through the examination of the Civil Service Commission the right to be entered as a Boy Artificer on H.M.S. Fisgard. The course of training on this ship being successfully completed he became an E.R.A. in the Royal Navy. With other old boys of the school he served in the war period on H.M.S. Invincible, taking part in naval engagements at the Bight of Heligoland in August and the Battle of the Falkland Islands. The ship also led the 3rd Battle Cruiser squadron at Jutland when was lost at about half past six in the evening of 31st May, 1916.

FURTHER INFORMATION

The photograph above is taken from a memorial booklet published by Southern Grammar School from which extracts also appear above.

The Commonwealth War Graves Commission (CWGC) lists Arthur Henry Coles, Engine Room Artificer 4th Class (M/2203), Royal Navy, HMS Invincible, died on 31/05/1916, aged 21. Commemorated on the Portsmouth Naval Memorial (Panel 15). Son of Henry A. and Elizabeth J. Coles, of 145, Haslemere Rd, Southsea, Portsmouth.

Arthur Henry Coles is also remembered on the Southern Grammar School WW1 Memorial, the Trinity Methodist Church WW1 Roll of Honour and on the Cenotaph. He is not listed in the 'National Roll of the Great War'.

Tim Backhouse
June 2014