Lives Lived and Lives Lost - Portsmouth and the Great War
ALFRED ROBERT BROWN

Living by the sea and working on it were dominant features of the Brown family history but they could hardly have chosen more diverse places to live - from Portsmouth to the north-east coast of Scotland and back.

The head of the household was Alfred Fawcett Brown who was born in London 1853 and who probably left home to go to sea as soon as he was able. It is not known if he joined the Royal Navy at any time but he was certainly a Master Mariner and Yacht Captain during the later years of his working life. At some point before 1876 he found himself in Portsmouth where he met and married Portsea born Eliza Lee. They set up home at 27 Seymour Place in Buckland where their first three children, Martha, Elizabeth and Ernest were born in 1879, 1885 and 1888 respectively.

In the early 1890s the family made the move to Kilmuir Easter, a tiny fishing village of just a few cottages, on the Scottish coast, north of Inverness. It is difficult to understand what might have attracted Alfred Fawcett to such a place, unless he wanted to become a fisherman, but it was not a short lived endeavour as they stayed there for at least ten years during which time four more children were born - Alfred Robert (9th August 1894), Edith (1896), Kenneth (1899) and Clara (1901).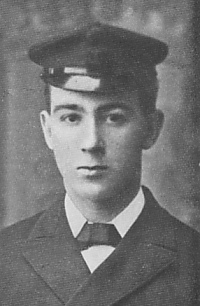 Around 1903 the family made their way south again and found accommodation at 60 Chichester Road in Buckland. This allowed Alfred Robert to attend the Secondary School on Victoria Road North between 1907 and 1910. Records suggest that he was one of the most prominent of the boys in all kinds of physical activity; he was First Year and Form Champion of IA in 1908, and was throughout his career one of the best Football players.

In 1910 Alfred Robert passed the Civil Service Examination for appointment as Naval Boy Artificer, and spent the next four years in training on H.M.S. Fisgard. He passed out well in the first examination, being among the first nine, and after a short stay at the Portsmouth Naval Barracks joined H.M.S. Invincible at Devonport, November 9th, 1914, as Engine Room Artificer.

Invincible took part in the Battle of Falkland Islands, December 8th, 1914, after which she sailed for Gibraltar, where the ship was repaired. The ship left Gibraltar for the North Sea on February 13th, 1915, and was stationed at Rosyth. On 31st May 1916 HMS Invincible took part in the Battle of Jutland and at six-thiry that evening with the battle in full flow a shell hit Q turret and burst inside blowing the turret roof into the air. Seconds later a huge explosion amidships blew the Invincible in half. The two ends of the ship remained sticking out of the water for several hours before they sank. Six of her crew survived and were rescued by HMS Badger. 1,026 men died, more than 130 of them from Portsmouth.

FURTHER INFORMATION

The photograph above is taken from a memorial booklet published by Southern Grammar School from which extracts also appear above.

The Commonwealth War Graves Commission (CWGC) lists Engine Room Artificer 4th Class Alfred Robert Brown (2202), Royal Navy, HMS Invincible, died on 31/05/1916, aged 21. Remembered on the Portsmouth Naval Memorial (Panel 15). Son of Alfred Fawcett Brown and Eliza Brown, of 14, Northern Parade, North End, Portsmouth.

Alfred Brown is also remembered on the Southern Grammar School WW1 Memorial and on the Cenotaph. He is not listed in the 'National Roll of the Great War'.

Tim Backhouse
May 2014