CHARLES CHUBB (1772–1846) - LOCKSMITH
The name of Chubb has been synonymous with the most secure form of locks for 200 years and it was in Portsea that the family business established itself in 1804.

Charles Chubb was born in Fordingbridge, Hampshire in 1779 and together with his brother Jeremiah who was born in 1793, was apprenticed as a blacksmith. The brothers opened their first business in Winchester but soon moved to Daniel Street, Portsea where they set up a hardware manufactory.

From the outset they specialised in providing customised ironwork for the Navy as well as locks to prevent petty pilfering and to improve security aboard the prison hulks then moored in the harbour. In 1818 the Chubb brothers patented the Detector lock which was the device that cemented their position as premier locksmiths in Britain. This invention was so successful that the brothers decided that Portsea was not the ideal place to continue manufacture, moving instead to Wolverhampton, then regarded as the centre of the locksmith trade.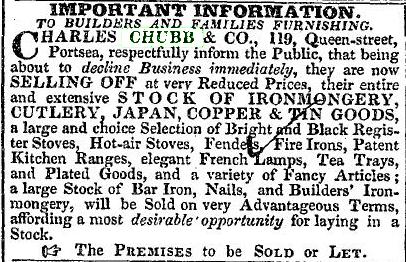 The connection between the Chubb family business and Portsea was not immediately broken by the departure of the Chubb brothers as their business, Charles Chubb & Co. continued in operation at their premises at 119 Queen Street until 1835. It finally closed with an auction of all the contents and as the advert in the Hampshire Telegraph of 9th February 1835 shows, the business had dealt in a wide range of goods, including cutlery, stoves, kitchen ranges, even elegant French lamps. As the goods in these categories were all being sold off rather than transported to Wolverhampton it would appear that the brothers were convinced that the locksmith trade had enough potential to require all their resources.

Initially however the business struggled and Jeremiah Chubb moved to America, possibly to escape mounting debts. Charles persevered and was rewarded when in 1841 he was appointed by Prince Albert to be lock and safe maker to the Royal family. The Chubb family never looked back and though Charles died in 1846 it has continued to this day, still manufacturing premium products.

Tim Backhouse

Postscript
Chubb lock collector Tony Beck produces a newsletter for enthusiasts and in Issue 17 there appeared an article entitled "The evolution of Chubb locks". This is available for download here.

REFERENCES
Charles Chubb - Dictionary of National Biography
Hampshire Telegraph
The Chubb Collectanea