A BRIEF HISTORY OF THE PIKE SPICER BREWERY
William Pike was born in 1691 at Poole in Dorset. At the age of 14 he was apprenticed as a cooper to his mothers cousin, Mr William Mudge, who owned a brewery in upper Penny Street, Portsmouth (Pike's apprenticeship indenture of 1705 can still be seen at Portsmouth Central Library). Whilst Pike was still an apprentice, the brewery was sold to Mr. Thomas Perkins who ran the business until his death in 1719. Having completed his apprenticeship and inherited a sizable portion of William Mudge's estate William Pike branched out on his own by purchasing the brewhouse at No. 19 High Street at that time known as The Antelope which comprised of stables and much of the land behind.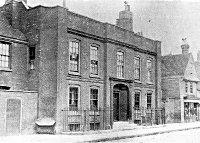 At the start of his independent career as a brewer he seems to have had but three licensed houses, all in Portsea, but he was intent on expanding the business. In 1732 he took on his own first apprentice and in 1747 purchased a distillery in Queen Street. In this venture he was joined by Samuel Spicer, a relative by marriage and the company adopted the name of Pike & Spicer, the brewery remaining in Pike's hands alone. By 1768 Pike had control over 22 Public Houses and in 1777 he owned 58 on Portsea Island and 8 in Gosport.

William Pike had married his wife Ann in 1715 and they lived in a large house opposite the brewery in Penny Street. Ann is credited with being very shrewd and well-informed and was no doubt a great contributor to her husband's success. He, however remained focussed on his business, rarely venturing beyond the precincts of the brewery until later in life when he found a penchant for owning property, much of it in the form of large estates on the Isle of Wight. He was therefore a very wealthy man when he died on 9th May 1777, aged 87 years.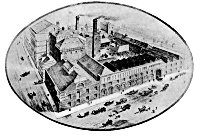 William and Ann Pike had two daughters who jointly inherited the businesses and the 5,730 acres of land by then accrued. One daughter, Susanna, was married to Mr John Carter and the other, Ann, to Mr Thomas Bonham and between them they had 9 children who jointly managed the business. John Carter's son, also named John became manager of the business and was later knighted by George III and was elected Mayor on 10 occasions.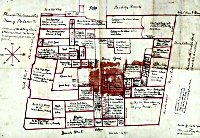 Over the following few decades the Carter managed brewery continued to thrive until by 1830 it owned 74 licensed houses. By then the last male heir in the Bonham line had died (in 1827) leaving the Carters to take full control, but in doing so they agreed to incorporate the name into their own. Thus the Bonham Carter reign began and the brewery grew to own a further 46 licensed houses by 1847. Previously in 1840, Mr David Spicer, the last owner of the Spicer brewery and manager of the Pike & Spicer distillery, died and their conglomerate came into the possession of Pike & Co. which henceforth changed it's name to Pike Spicer & Co.

The next forty years saw the company consolidate. They owned half the licensed premises in Portsmouth and a handfull outside of the town but they made little attempt to expand further. Their position as biggest brewer had seemed unassailable and in 1889 they became the first to convert to a limited company. By then a number of small brewers were beginning to get noticed amongst them was the ambitious Brickwood family to whom Pike Spicer sold all of it's houses in Gosport. When Brickwoods bought the Tessier, formerly Garrett's, brewery in Penny Street, Pike Spicer found themselves with a very serious rival. To make matters more complicated another thrusting brewing family, the Duprees joined the fray.

Eventually Pike Spicer suggested a merger with Brickwoods but they were rebuffed and the company continued to decline. In 1910 an amalgamation with Brickwoods was finally agreed and the Penny Street brewery was closed down ending brewing on that site that had lasted nearly 200 years.

Tim Backhouse
January 2008

REFERENCES
Portsmouth Papers Nos. 25, 51 and 63
The Bonham Carter Archive, Hampshire Record Office
"The Noted Breweries of Great Britain and Ireland", by Alfred Barnard